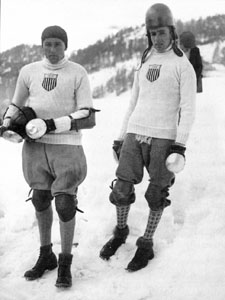 | | |
| --- | --- |
| Name: | John Heaton |
| Date of Birth: | 09 Sep 1908 |
| Nationality: | USA |
| Sport: | Bobsleigh/Skeleton |
John Rutherford Heaton won three Olympic medals with a time lap of 20 years. The American made his Olympic debut in 1928 in the Skeleton competition and in 1948 returned to the Olympics in the same discipline.
Heaton finished second on both occasions, losing to his brother Jennison Heaton in St. Moritz the first time. The latter also won a silver medal in the 4/5-man bobsleigh competition. John must have been inspired by his brother and decided to enter the bobsleigh competition four years later. In Lake Placid he won a bronze medal in the two-man. His Olympic career seemed to be over, but in 1948 the Skeleton event was on the program for the second time - and for the second time in St. Moritz. Heaton, who at that time lived in Paris, once again won the silver medal.
Nowadays the St. Moritz Toboganning Club still organises the Heaton Cup that was initiated by the brothers in the 1930/1931 season.